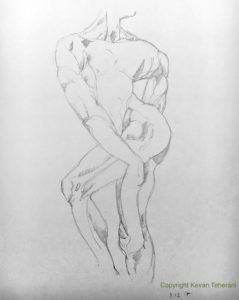 Performance in 5 Szenen
StAge befasst sich mit der Vergänglichkeit des Seins, eine Auseinandersetzung mit Gewohnheiten und Abhängigkeiten. Dies geschieht im Zusammenspiel von Musik und Tanz, Elektronik und Performance, bildender Kunst (Grafik) und Dichtung. Komponierte Werke der auftretenden MusikerInnen und Improvisationen wechseln einander ab, wie auch zwischen verschiedenen musikalischen und tänzerischen Stilen bzw. Formen variiert wird. Der Bühnenraum enthält großflächige Grafiken und Installationen, die sich mit dem menschlichen Körper und seinen physischen Grenzen beschäftigen. Ein Abend voller Bewegung und Entwicklung.
Performance in 5 scenes
StAge is concerned with the transience of being, an examination of habits and dependencies. This happens in the interplay of music and dance, electronics and performance, visual arts (graphics) and poetry. Composed works by the featured musicians and improvisations as well as different musical and dance styles alternate with each other. The stage space contains large-scale graphics and installations that deal with the human body and its physical limits. An evening full of movement and development.