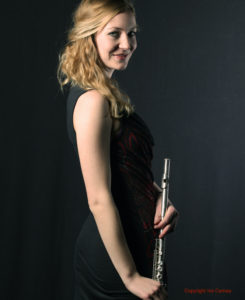 The flutist, singer and composer Sophie Katharina Schollum, born in 1992, lives in Vienna, where she also studied at the University of Music and Performing Arts. She is involved as a musician in a wide variety of musical styles.
With her trio "Mister Montelli" she performs her own compositions, arrangements and improvisations for flute, viola, bass clarinet and voices, moving at the intersection of classical, modern music and jazz. The first album will be released by Gramola in the fall of 2023. Current dates can be found here.
Together with Anna Magdalena Siakala on viola and vocals and Theresa Dinkhauser on clarinet, she tells of moonlit tents on steep rocky coasts, of twisted clouds of sound in hazy cellars, colorful markets in scorching heat, and elegant windows behind which women in corsets pour their dreams into sounds under pseudonyms.
With her band "Sanyoo" she interprets her own songs, which move between pop, funk and jazz. The first album "Stories" was released in the summer of 2022 – it features 11 songs arranged for vocals, flute, viola, bass clarinet, piano, bass and drums. Currently band is working on new songs in trio and quartet lineups and is looking forward to upcoming concerts. (Christian Kurz/ Amir Wahba – drums, Kristian Lind – bass, Katarina Kochetova – piano, Oscar Antoli – clarinets).
As a member of the trio "Lagom", together with Jon Svinghammar (piano) and Young Jung-Svinghammar (cello), she interprets and arranges songs from all over the world in original language. The project was presented in 2022 as part of "Musik Aktuell".
With Carmen Pratzner (dance) and Kevan Teherani (percussion, graphics) she developed a performance in 5 scenes titled "stAge – los.leben.lassen", which was premiered as part of Musik Aktuell in August 2020. Constantly alternating between composition and improvisation, as well as between different musical and dance styles and forms, "stAge" deals with the transience of being, in the interplay of visual art, music and dance, electronics and performance.
Since 2019 she has been performing flamenco music with Monika Clavijo Barroso, Beate Reiermann and Anna Magdalena Siakala. With her father Benno Schollum, she interprets Viennese songs as a pianist. As a singer and flutist, she performs with bands such as the "Van De Gruufmaakers", the "RD Project" and in various other lineups at weddings and festivals.
Since 2013 she was a member of the band "Aerdung", playing original compositions between funk, jazz and pop. Since 2010 she has been playing in orchestras like the "Klangvereinigung Vienna" and the orchestra of Burg Gars. In spring 2017 she was pianist at the Theater am Franz Josefskai 21 in Alexander Wächters program "Komik und Noten".
In the school year 2014/15 Sophie Schollum taught flute at the music school Sieghartskirchen. From April 2016 to August 2022 she taught flute, music theory, piano and repetition at the music school Breitenfurt. Currently she teaches at the Musikschule am Park, gives private lessons and organizes courses and workshops.
Sophie Katharina Schollum studied instrumental and vocal pedagogy flute at the University of Music and Performing Arts Vienna as well as teacher training in music education and instrumental music education, majoring in flute with Robert Wolf and Birgit Ramsl and piano with Albert Sassmann. Singing lessons with Ursula Slawicek, Monika Ballwein and Gudrun Nikodem-Eichenhardt, among others.
Klicke hier für die deutsche Version.